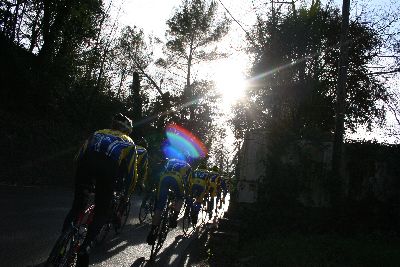 Voici quelques jours que je suis de retour chez moi après un super stage passé à Antibes avec mon club, Poissy. Comme d'hab on a été très bien accueilli au CREPS d'Antibes et comme d'hab' le groupe et le temps ont tous les deux été à la hauteur.
Ca fait toujours plaisir d'accomplir du bon travail dans une ambiance sympa avec des gens motivés.
Alors merci aux coachs - Boris, Cedric, Steph (je suis sûre qu'elle pourrait toujours nous poser des mines en Grand Prix!) et Christophe, et aussi à Sylvain pour les parcours vélo. Merci également au groupe Masters (Nico, Julien, Antony etc) et à mes copines de chambre (Camille et Julie) pour leur soutien et leur bonne humeur!
Place à une petite semaine de régénération avec le 10km de Bezier ce weekend (trop cool!!! J'adore... ;)). Mais c'est vrai que ça fait du bien de rentrer à la maison un peu - je profite car la saison démarre bientôt et après ça on ne se posera pas beaucoup.
A bientôt X
I've been back from my training camp in Antibes with my club for a couple of days now. As usual we were made extra welcome at the regional sports structure where we were staying and as usual both the weather and the training group were great. It's always nice to get some hard work done in a relaxed atmosphere with some cool people.
So thanks to the coachs (Boris, Steph, Cedric and Christophe), the Masters group that were there with us for their good humour and my room-mates (Camille and Julie).
This week is a short recovery week (with a visit from my Bro' and girl from England - cheers for a fun weekend Tommy) finishing with a local 10km this weekend. It feels good to be home for a little while, especially as the season starts soon and from then on it's living out of your suitcase time!
CU soon X